Tinkering little conjuring notes promise unfathomable possibilities in a cloud-high academy for the preternaturally gifted; electricity is a type of magic, and a talking fox teaches you how to fly that little broom you found buried in a hag tree. You're wild, unruly red hair is a definite sign that you are special, and for once in your life you feel as proud as you'd always hoped you'd be. However, there is a flaw to this new, fantastical world, and that is that you are a liar; you're not that special, and you only know of this place because you're bold enough to wander into misty woods when no one else would dare to. You lie to cover up the lie and the pressure starts mounting. The rare glowing fly-by-night is quickly disappearing, the only thing that allows you to experience any of this at all, and with that any chance to save the only friend you have.
Mary and the Witch's Flower
(
Meari to Majo no Hana
) is the debut feature from Studio Ponoc, established by animators from Studio Ghibli after it feared that the world-famous filmmakers would shut the company down. Directed by Hiromasa Yonibayashi, of
When Marnie Was There
, Ponoc's debut film plays close to its heart the influence of it's forebarer's, looking and feeling much like a Ghibli movie, from the painterly backgrounds to the wide-eyed spirited protagonist.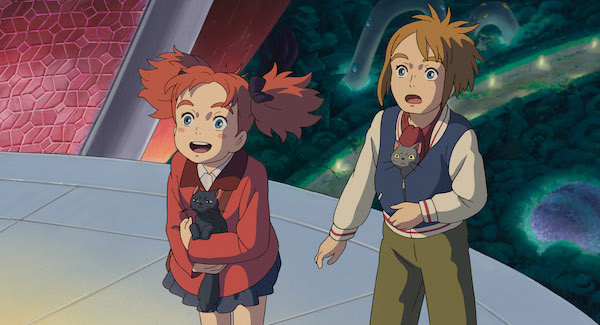 Based on Mary Stewart's
The Little Broomstick
, we are treated to Shropshire's lush landscapes and romantic ruins, but England's turbulent history with witches is set aside for a thoroughly contemporary interpretation; this is a magical world that literally sets itself apart, floating high in the clouds, and looking fantastical, mechanical, and involving a quasi-alchemical/chaos magick workings as matter is re-formed at will and against its will. Indeed, even Queen Elizabeth I's occult adviser John Dee is referenced within the hyper-mustachioed steam-punk chemistry professor Doctor Dee.
While
Mary and the Witch's Flower
is an attractive film (and I mean, you really have to try super hard to make
English food look appetising
), it all felt like something I'd seen before. The musical tinkering sounded uncannily like
Harry Potter's opening notes
, the whole of Endor College seemed Potter-esque, and even Mary's distinctive look as being a sure sign of her singular ability is akin to Harry's scar. Then there's the
Laputa: The Flying Island
world with a cumulonimbus idea; the black rushing goo-monster from
Princess Mononoke
, the lying girl and the boy that just wants to look after his mother from
His Dark Materials
... It is unfortunately derivative, and while a promisingly scary watery minion is set-up in the first five minutes, the rest of the film doesn't do enough to stand up alone against all that it will be compared to.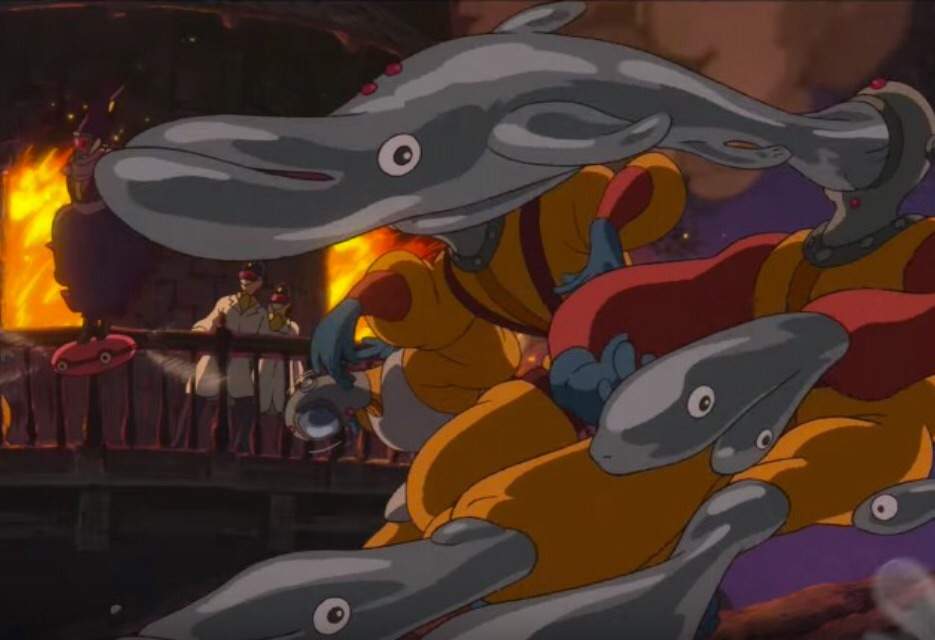 This is a safe bet, though. There is nothing here that is bad, and young children that have not had the pleasure of
Potter
, Ghibli, and Philip Pullman's enticing worlds will find a lot to be charmed by, even though the films weak motivation renders it less high-stakes. The first volume of
Ponoc Short Film Theatre
,
Modest Heroes
, looks like it may simultaneously branch out and refine its style, allowing the studio to find more stable footing within the world of animations abundant output.
6/10
Layla