The last show on the road to WrestleMania is Fastlane, a Smackdown exclusive show, that was far better then Raw's
Elimination Chamber
show which occurred last month. Here's my choices for the best moments of Fastlane.
5. Bobby Roode vs Randy Orton for the United States Championship - A very solid match between two of the top faces on Smackdown, I was expecting Jindah Mihal to interfere in this one rather then having a clean finish, but he didn't which was a relief. They've been going to that well far too much lately. So good match in the end with Randy winning but Bobby looking strong in defeat.
4. Rusev vs Shinsuke Nakamura - From the brilliant introduction from Aiden English, to the devastation thrust kick by Rusev, this match was enjoyable with some good spots. Hopefully this will lead to Rusev getting more of a push after WrestleMania, because he is being wasted in the mid card at the moment.
3. Charlotte Flair vs Ruby Riot for the Women's Champonship - I really enjoyed this match. I never really rated Ruby Riot in NXT and, was shocked when she got called up with Liv Morgan and Sarah Logan, but this match was really good especially for Ruby using a great straight jacket hold (I think that's what it's called?), which she keeps locked in switching to different positions multiple times. Plus, there was some good spots throughout where both women took some nasty bumps. After Charlotte picked up the win Asuka came out to let Charlotte know she will be her opponent for WrestleMania in what could be a show stealer.
2. Six pack challenge for the WWE Championship - This match started hot with Cena hitting his finisher on all challengers apart from AJ, then both men traded some pretty weak looking punches. The rest of the wrestlers recovering from Cena's round of finishers all beat up on him. Most wrestlers went their own way with Corbin throwing Ziggler through a barrier. Zayn and Owens wound up getting in Shane McMahon's face, who was there for no reason other then to be a jerk. Shane ended up costing both Owens and Zayn the match, pulling the ref out the ring when Owens' had Ziggler pinned and pulling Zayn out when he had Owens pinned. AJ managed to retain his title pinning Owens after the phenomenal forearm. This was a great main event with all involved, apart from Shane, he sucks.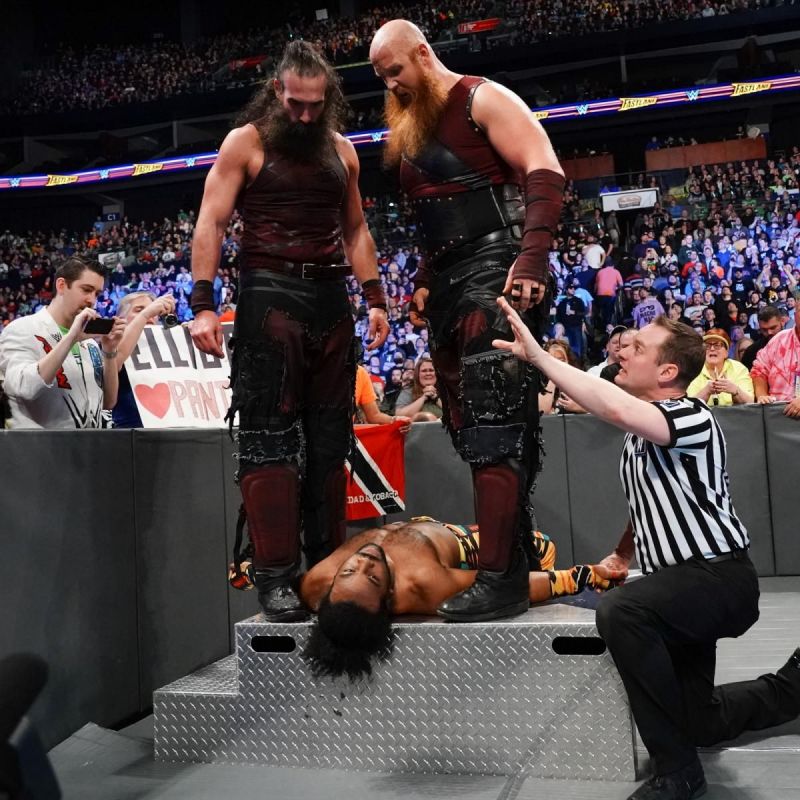 1. The Usos vs The New Day for the Tag Team Championships - The match was really enjoyable with both teams switching move sets. Both teams hit the opposite teams finishers for close pin falls and the match ended with both teams on the outside of the ring after the Usos hit splashes to the outside. Then the Bludgeon Brothers showed up to just destroy both teams in what seemed like forever. Rowan even tried to squash Jays head with his hammer at one point, luckily he moved. The beat down ended with a brutal power bomb on Xavier on to the ring steps. This was a brutal beat down which I hope leads to a TLC match at WrestleMania between these three teams.
Well that's my top 5 moments, did I miss any of your favorite moments? Let me know in the comments below. Richee