I'm back with more of my random nonsense, and today I bring you a game I like, my review of the first episode of
Good Game,
and Shea Whigham climbing my list of current favourite actors.
Good Game
is brought to us thanks to YouTube Red starring everyone's favourite gamer duo the Game Grumps. Danny Avidan plays Alex, a layabout in need of cash who wants to enter an E-Sports competition to win one million dollars. He recruits room mate Ryland (Arin Hanson) a gamer nerd who is sceptical of the idea. They recruit a team and search for some local gaming events to build up their name, giving them a way to take part in the E-Sports show. Ryland is recognised by former friend Steamin' Semin and is shamed as a YouTube video emerges of him throwing a fit about his password being changed by his mother.
Alex uses the opportunity to challenge the current champs, and it gives their team the chance to get some exposure, taking the champs to their limits until, some how, the power is cut before either team can get the win. This show surprised me. As much as I love the Game Grumps, I really wasn't expecting anything from
Good Game
. Both Danny and Arin are excellent along with the supporting cast, the story is funny and entertaining, and it left me wanting more. I'm waiting for the entire show to be released in full where I will purchase it and review it. Final verdict: 8/10 for episode 1.
I've been playing the heck out of an older game,
This War of Mine: The Little Ones
, which came out on the PS4 a while ago now. I never gave it a chance when it was free on Playstation Plus until I saw a video about it which peeked my interest. The game gives you control of a group of characters trying to survive a raging war between the army and rebel fighters. Forcing you to fix up a home front and go looting for gear in dangerous area's while making sure your survivors stay healthy and fed. I love everything about this game from the style to the tense fights for survival.
The main reason I'm talking about it is in hope I can encourage more people to pick it up and give it a go. This is mostly for my own greedy need as I want more DLC for it, especially now that I've played through it multiple times. It is out on every format, and is super cheap so go check it out don't let the game style put you off like it did me originally. It is excellent and well worth your time and money.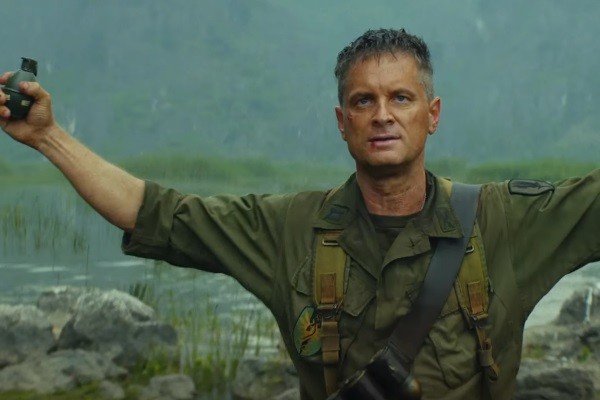 Finally on to Shea Whigham, an actor who has been about for twenty years now but has been my favourite actor in some of my most recently reviewed films/shows. He has always had a distinct look about him, playing the gruffer rougher character, but he has managed to show a range of talents recently. First he played my favourite soldier Cole in
Kong: Skull Island
, and he had some great lines and action scenes which stole the show for me, fitting the role perfectly.
Then there was the comedy show
Vice Principals
where he played Ray the step dad to the main characters daughter and is easily the most likeable character in the show, becoming a welcome sight in a show full of narcissistic jerks, and a character I chose to highlight in my review. Then finally he played James Turner in the American live action adaption of
Death Note
. Playing the father to Light, he played a gruff detective and protective father, and again was a welcome sight. Hopefully we'll see more lead roles for Shea Whigham, and until then the show
Fargo
is now on my must watch list as Shea is in it, plus multiple films in post production.
So there's a few things I've had on my mind. If you have any thoughts on
Good Game
,
This War of Mine
or Shea Whigham let me know in the comments below. Richee